Buying a franchise location is a decision that shouldn't be taken lightly, just like any other investment. Here you can learn the key facts about Backyard Bug Patrol before making your final decision on buying a franchise.
What is the Backyard Bug Patrol Franchise?
The Backyard Bug Patrol franchise is a mosquito, tick, pest, and rodent control service home-based business model that focuses on providing high-quality services with a low initial investment and a healthy profit margin. To learn more about the franchise here is the difference bet
Pest control—or pest management—is the control or regulation of a pest species, which is an animal that has a detrimental effect on human activities. Exclusion, repulsion, physical displacement, and chemical control are all used to eliminate these pests.
Critter control aims to remove animals in the most environmentally and humane manner possible. For wildlife control, these services may use live traps. By definition, the difference between critter control and pest control is specifically related to the type of species involved. The category of pests mainly includes bugs (and small rodents), and critter management includes animals such as squirrels or rats.
What does a Backyard Bug Patrol franchise cost?
The cost of establishing a Backyard Bug Patrol franchise or location is dependent on a number of factors, and each franchise is unique in this regard. There's also a distinction to be made between opening a whole new company and simply rebranding an existing one.
Cost of Starting a Business
You'll need money and time to start and run a pest/critter control business. While starting a business is an exciting operation, it is also costly. It's critical to be reasonable when estimating startup costs for a company. By franchising with Backyard Bug Patrol, you can lower some of these costs and only have to invest in an initial franchise fee and extra investment for supplies and equipment.
According to the Small Business Administration, there are many forms of expenditures to remember when beginning a business. To better control the business's cash flow in the short and long term, you must distinguish between these costs.
Cost of Rebranding a Business
While rebranding a location can save money, particularly when leasing or building a new location, there are still costs associated with it. A single-territory franchise location for Backyard Bug Patrol comes with a variety of charges, as well as subsequent payments, such as supplies, preparation, and other startup costs. A double-territory franchise has marginally higher prices. If there is a low risk in the rebranding procedure, you can expect to invest from 1 to 3% of the possible cost to your company, and if the stakes are high, you'll want to invest 5 to 10% of the possible cost to your company
Advantages Of Acquiring a Backyard Bug Patrol Franchise
The advantage of franchising in Backyard Bug Patrol over starting your own business is that you will receive help and will not have to deal with the day-to-day issues that a startup faces, such as planning a business plan, procedures, finding suppliers, and considering a brand. While some experience in the pest-critter control industry is advantageous, a basic understanding of pests and critter control is all that is needed. A Backyard Bug Patrol franchise could provide you with training if you're just getting started and want a full business setup. A Backyard Bug Patrol franchise has many advantages over starting your own company, particularly in terms of the existing brand you'll be joining, the know-how, the structured procedures, a brand consumers trust, and other factors.

Brand Recognition
As a Backyard Bug Patrol franchisee, you will have the opportunity to participate in the pest and wildlife management success rate, and you will just have to think about setting up and operating the franchise effectively. The business model has already been developed! Brand recognition will come easily.

Higher Success Rate
As previously mentioned, being a franchisee in the pest/control service industry means that you are buying into the franchise's existing confidence. You won't have to worry about putting in the effort required to earn a customer's confidence in your brand. You're paying for the right to use the Backyard Bug Patrol franchise logo and recognition.
What is Included With A Backyard Bug Patrol Franchise?
Being a franchisee in Backyard Bug Patrol comes with a lot of responsibilities but also benefits, which include: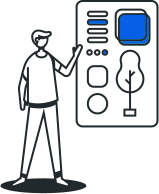 Training

One of the main reasons people go for a Backyard Bug Patrol franchise business opportunity is the help with training and preparation. All you need to know about running a company is usually covered in some detail by the franchisor, including product and service information, operations specifics, marketing, and accounting procedures. That's because the franchisor understands how the system operates, has perfected it, and can impart that information to you as a new franchisee. Also, there is training for managers and employees, at no extra cost

Territory

A franchise territory is a geographical region in which a franchisee is permitted to open and operate a franchised company. This means that exclusive rights and opportunities are given to a franchise territory. No other franchise location will be established within an already determined territory.

Obligations and restrictions

All All franchisees must follow the Backyard Bug Patrol's structure, regulations, and guidelines and handle specific location responsibilities, including local accounting and sales force recruiting. In addition, there are clear obligations and restrictions about the supplies, services, marketing, and processes that both the franchise and the franchisee must comply with.

Financial Assistance

Suppose you have doubts regarding the financial process of getting a Backyard Bug Patrol franchise. In that case, there is always assistance with creditors and loans available if you want to invest in supplies and other expenses.

Terms of Renewal

A franchise agreement's extension term applies to the period following the initial term and the franchisee will decide whether or not to continue running the franchise. In most cases, there is no right to automatic renewal. Even so, the terms of renewal are established in the franchise agreement, and they're also reviewed and signed at the beginning of the process to set up a new location.
Best Candidate For a Backyard Bug Patrol Franchise
A Backyard Bug Patrol franchisee candidate must be hardworking, goal-oriented, and capable of being proactive in searching for new ways to develop the franchise as a whole. Above all, the franchisee must make certain that they understand the pest/critter management business model and culture

Entrepreneurs
Backyard Bug Patrol franchisees must have a strong entrepreneurial spirit even if it's not their own company, as each franchise location can be just as challenging as a new company. Entrepreneurs looking to make their way into pest and wildlife management must have a quick problem-solving and occasional innovation attitude.

Corporate professionals
Any business needs professionalism, and Backyard Bug Patrol is no exception. Good communication, honesty, hard work, and respect for procedures, as well as the duties of managing a pest/critter franchise site, are all important aspects of franchising.

Experts
Having expertise in the pest/critter control industry is an advantage, or having the skills necessary to excel in it, but it is not a specific requirement. Becoming an expert with the help of a Backyard Bug Patrol franchise may come by itself in the journey of getting a pest control franchise.
Backyard Bug Patrol franchise owner salary
The salary of a Backyard Bug Patrol franchise owner will depend on the location and other considerations, but if both you and the franchisor perform your duties when you decide to franchise, you will gain a lot of business and growth benefits.
Backyard Bug Patrol Franchise Reviews
The Backyard Bug Patrol franchise is a company that can provide a wide range of animal and wildlife management services, as well as animal harm control and prevention. This franchise is expanding into new markets, and it may be already available in your area soon. Don't forget to look at some of the reviews about this franchise from other franchisees or investors. Take advantage of the chance to become a Backyard Bug Patrol franchisee today!
Ready to start a Franchise?
Sign up to our Monthly Newsletter
Stay on the front lines of franchise opportunities, news, and my educational webinars.