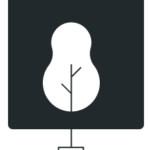 Tree Service Franchise Cost
Before you decide on entering the tree service industry, it helps to know the average
costs of these types of franchises so you can be prepared and consider all the
requirements.
What Are Common
Costs for Opening a
Tree Service Franchise
The common cost for opening a tree service franchise, like any other franchise, begins with the startup cost, which includes everything from fees to royalties, buying or leasing real estate, and training your new employees.
You then have to take into account the monthly cost of operating the franchise, from marketing fees to supplies and legal and administrative fees. All this before taking into account other aspects that are independent of the franchisor.
Startup Costs
A franchise has a lot of advantages to starting your own business, especially when it comes to the established brand you're joining, the know-how, the standardized procedures, and other factors. But it can be just as much an investment as starting up your own business, although most franchises, in the end, can cost a bit less.
For any franchise, most franchisors require a minimum amount of capital to start up or to take you seriously. They will check:
Liquidity
Liquidity is the capital, or cash on hand, that you have ready to invest. Like when a landlord is asking prospective tenants for proof of income. The average liquid capital a tree service franchise requires is around $100,000.
Net worth
This is just another way for a franchisor to decide if they are going to go into business with you. Your properties, your liquidity, stocks, etc. On average, your net worth must be of around $350,000 for a tree service franchise.
Franchise
Royalties & Fees
Owning any franchise means you're helping expand an already successful business. But in order to hitch a ride on someone else's success, you need to pay for your entrance fee, and if you want to make money off of that business, you have to put in some work and share your winnings, i.e., pay royalties. That's what royalties and fees are about.
Franchise fees
A franchise fee is what you pay to get into a successful franchise business. When getting into the tree service franchise, you'll have to pay a fee to any franchisor. For a tree service franchise, the range is from $30,000 to $50,000. This does not include other costs when launching a franchise, like materials, labor, training, etc. We'll get to that later.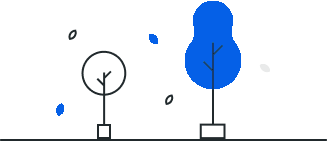 Franchise royalties
Once you paid a fee to have the rights to a tree service franchise and be part of the brand, you still have to pay royalties to the franchise, mostly on a monthly basis. How much you pay depends on the franchise, but they typically range from 4% to 12% of your monthly revenue. The industry you're in also determines the fee.
The fees and discounts
Most franchises also require you to pay a monthly fee for marketing cost, although it also varies depending on the category of a franchise. Some might even offer discounts based on region, the population of the territory, on whether you're a minority, a veteran, woman, or if you pay royalties early, in advance or if they are interested in expanding into your area and offer an extra incentive.
Some franchises also offer exclusivity and protected territory, meaning they'll respect your territory and won't offer their franchise to someone else in your area.
Facilities &
Equipment Costs
Like we mentioned before, the cost of entry into a franchise isn't limited to the franchise fee and franchise royalties. You also have to invest in a location and getting your business set up, buying signage, uniforms, machinery, a location, and much more. Are you going to lease or buy real estate for your business? You can also choose to lease or buy equipment, depending on your long term plans, and on whether your franchise allows it.
Some franchises, like the tree service franchise, don't have much cost in terms of real estate, but they do when it comes to machinery and transportation. You have to see just how much you can invest in buying all that or just leasing them.
Buying vs Leasing
You can either buy or lease property and equipment. There are advantages to each, but it all depends on your long term plans. And the franchisor will always have to approve of those plans, the location of your business, and how you finance it.
If you are truly committed to the franchise, it is recommended to lease equipment, especially the more expensive pieces, that will otherwise make you take a big hit when starting up.
Buying real estate, cars, and other heavy machinery right out of the gate, probably because you want to own everything even if you pull out of the franchise.
And even if you are buying, you might want to choose between a capital lease and an operating lease for some equipment.
Buying vs Leasing
Lets you take out capital to buy your equipment by the end of your lease.
Operating lease
These are used for machinery and equipment that needs constant replacing or if you don't plan on having it for long.
Hiring & Training
Employees
An important cost, both in time and money, is hiring and training your new employees for your tree care franchise.
A lot of franchisors will require you buy uniforms for your employees, use their pre-approved hiring process, and then demand at least you and another employee go through the required training.
Sometimes the franchisor will pay for the travel expenses (if required) for training, but most of the time the franchisee pays for the travel and the franchisor simply provides the training or courses. Your franchisee has to abide by all the rules.
Workforce & Labor
You have to hire, train, and maintain your labor force. You'll be in charge of payroll, severances, legal expenses, everything (unless the franchise specifies they will handle your payroll).
Supplies
The franchise will also demand you comply with their supply rules. Most do require you buy from specific suppliers or contractors, and in the event that you are offered more freedom in choosing suppliers, you still have to abide by strict requirements, like maybe buying only electric vehicles, organic ingredients, or American made products.
Some franchises, like a tree service franchise, have their own marketing programs where you can easily buy signage, print ads, direct mail, videos, business cards, and other marketing materials without going out and searching on your own.
Administrative Legal & Accounting
A good franchisor is always well protected against the risks of trusting someone else with their franchise. They will go through with the legal requirements before you even start, and also be protected against any mistakes you make. You will incur the cost of signing the contract (unless otherwise stated by the franchisor) and other necessary legal fees for opening the business in your city or state. If you get a franchise attorney (which is recommended) you will also incur this cost by yourself. The usual cost for a franchise attorney is between $1,500 to $5,000.
Taxes
Do franchises even pay their own taxes? Yes, like any small to medium size business, they have to pay local and state taxes. You as a franchise are simply paying for the right to use the brand and know-how of another established business, but you yourself are still a business with legal rights and responsibilities.
Check Out the Costs for
Tree Service Franchises
The initial fee for a tree service franchise can range from $30,000 to $50,000 depending on the population of your region. It's actually cheaper to start a franchise in an area with a larger population, as there are more opportunities for bigger volume and sales.
Initial franchise fee
For a single territory is $49,500. It includes an exclusive, protected territory of at least 200,000 in population. There's a minimum requirement of $100,000 in Liquid Capital and Net Worth of $350,000.
Multi-territory offers:
Monster Trees offers a discount for multiple territories purchased at the same time.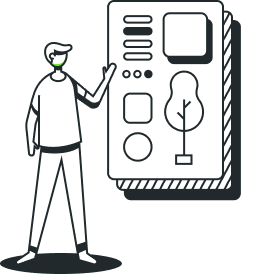 | Outlet | Base population | Franchise fee | Cumulative franchise fee |
| --- | --- | --- | --- |
| 1 | 200,000 | $49,000 | $49,000 |
| 2 | 400,000 | $40,000 | $40,000 |
| 3 | 600,000 | $35,000 | $35,000 |
| 4 | 800,000 | $30,000 | $30,000 |
| 5 | 1,000,000 | $30,000 | $30,000 |