Buying a franchise location is a decision that shouldn't be taken lightly, just like any other investment. Here you can learn the key facts about Mowbot lawn care industry before making your final decision about buying a franchise.
What is Mowbot?
Mowbot is one of the top franchises in the industry, with years of experience in helping franchisees set up new locations, and has a visionary executive team. Mowbot is the future of the $99.5 billion lawn care business and artificial intelligence. Mowbot is your platform to get in on the ground floor of a groundbreaking idea that will change the way Americans take care of their lawn maintenance.
Mowbot is a good investment for business owners who are interested in emerging technologies that are better for the environment, cheaper, and do a better job than traditional methods.
What Does a Mowbot Franchise Cost?
The cost of setting up a new Mowbot location varies on several factors, and each franchise is different in that regard. There's also a difference between setting up a completely new location or only rebranding an already existing business.
Cost of Starting a Business
The cost of starting a new franchise location for Mowbot is an initial franchise fee of  $39,000 with monthly royalties of 7.0% while having at least $50,000 of capital on hand, and a net worth of $150,000. In the end, the total investment is $61,510 – $129,680
Cost of Rebranding a Business
Rebranding a location might save some money, especially when leasing a new property or building a new location, but there are still costs involved in the rebranding. Just like a new location, a new franchise location for Mowbot is an initial fee of  $39,000 with monthly royalties of 7.0% while having at least $50,000 of capital on hand, and a net worth of $150,000. In the end, the total investment is $61,510 – $129,680
Advantages Of Acquiring a Mowbot Franchise
A Mowbot franchise has a lot of advantages over starting your own fully integrated business, especially when it comes to the established brand you're joining, the know-how, the standardized procedures, a brand consumers trust, and other factors.

Brand Recognition
As a Mowbot franchisee, you are also getting the right to be part of the success rate involved with Mowbot and have to only worry about setting up and managing the franchise successfully. The business model is already taken care of!

As we mentioned, joining Mowbot as a franchisee ensures you are buying into the trust already established by the franchise. You don't have to worry about the hard work involved in building a brand consumers trust. You're paying to use Mowbot's recognition. It's one of the best domestic robotic technology that can outperform a traditional lawnmower.
What is Included With A Mowbot Franchise?
Being a franchisee for Mowbot comes with a lot of responsibilities, but also benefits, which include: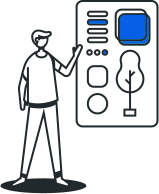 Training

One of the main reasons people go for a Mowbot franchise business opportunity is the help with training and preparation. All you need to know about running a company is usually covered in some detail by the franchisor, including product and service information, operations specifics, marketing, and accounting procedures. That's because the franchisor understands how the system operates, has perfected it, and can impart that information to you as a new franchisee. Also, there is training for managers and employees, at no extra cost.

Territory

A franchise territory is a geographical region in which a franchisee is permitted to open and operate a franchised company. This means that exclusive rights and opportunities are given to a franchise territory. No other Mowbot franchise location will be established within an already determined territory.

Obligations and restrictions

All franchisees must follow Mowbot's structure, regulations, and guidelines and handle specific location responsibilities, including local accounting and sales force recruiting. In addition, there are clear obligations and restrictions about the supplies, services, marketing, and processes that both the franchise and the franchisee must comply with.

Financial Assistance

Suppose you have doubts regarding the financial process of getting a Mowbot franchise. In that case, there is always assistance with creditors and loans available if you want to invest in supplies and other expenses.

Terms of Renewal

A franchise agreement's extension term applies to the period following the initial term and the franchisee will decide whether or not to continue running the franchise. In most cases, there is no right to automatic renewal. Even so, the terms of renewal are established in the franchise agreement, and they're also reviewed and signed at the beginning of the process to set up a new location.
Best Candidate For a Mowbot Franchise
A Mowbot franchisee must be hard-working, goal-oriented, have some previous management experience, along with the ability to be proactive when looking for new ways to improve the franchise as a whole. Above all else, the franchisee must be sure they are completely on board with Mowbot's business model and culture.

Entrepreneurs
An entrepreneurial spirit is key for Mowbot franchisees. It might not be your own business, but each franchise location can be just as demanding as a new business and will require finding solutions quickly and innovating from time to time.

Corporate professionals
Professionalism is required for any business, and especially for Mowbot. Franchising is about effective communication, honesty, hard work, and respect for processes, and the responsibilities of managing a Mowbot location.

Experts
Having expertise in the lawn care industry is an advantage, or at least having the skills necessary to excel in it.
Mowbot franchise owner salary
The Mowbot franchise owner's salary depends on the location, and other considerations, but the lawn care and landscaping industry usually pays owners anything from $40,000 to $70,000 yearly, depending on sales.
Mowbot can outperform traditional methods for lawn care. It's also a smart investment when it comes to robotic lawn mower technology.
Sign up to our Monthly Newsletter
Stay on the front lines of franchise opportunities, news, and my educational webinars.